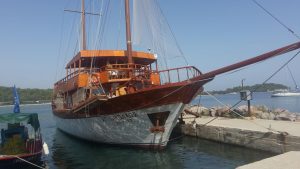 Our tour at the beautiful Toroneos Gulf begins from Pefkohori.
First stop is in Toroni for swimming and a light meal on board.
There you can also visit the ancient castle of Toroni.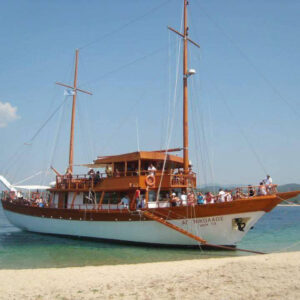 We depart from Toroni and our next destination is the town of
Neos Marmaras. In this route you can see all of the beautiful
beaches and the hidden small harbours in Porto Carras area.
In Neos Marmaras you have free time to explore the village
for shopping or relaxing in a café.
We continue our cruise to the unique turtle-shaped isle of Kelyfos.
There you can swim just next to the isle  or  simply enjoy diving
directly  from  the  boat.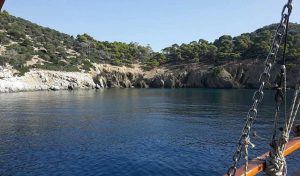 After  a  30  minutes  stay  in  Kelyfos
we set off to head back to Pefkohori.
Also don't forget to keep your eyes open for the dolphins!
MAP OF PEFKOHORI CRUISE